C&C: Reloaded
Mod for

YR
| | |
| --- | --- |
| Category: | Normal Mod |
| Created: | Monday July 16, 2012 - 13:18 |
| Updated: | Thursday September 13, 2012 - 3:21 |
| Views: | 4347 |
| Summary: | Tiberian Sun and Red Alert 2 universes merged in one product. |

Rating

Staff

5.0

Members

-

Average

5.0/5.0

1 vote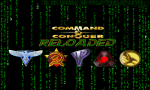 Yuri's Revenge mod that mixes the Tiberian Sun universe with the Red alert 2 universe in the same game...
Choose Your faction Commander:
* Allies
* Soviet Union
* Yuri
* Brotherhood of Nod
* Global Defense Initiative
Play in official Tiberian Sun maps & High quality maps made by expert map makers designed for Tiberian Sun wih Tiberian Sun terrain.
Play Every mission from:
- Yuri's Revenge
- Red Alert 2
- Tiberian Sun
- Firestorm (coming soon)
Official Website:
http://reloaded.cncguild.net/
Please visit the C&C:R forum!
http://forums.revora.net/forum/76-cc-reloaded/
Links / Downloads
Credits