D-day
Mod for

YR
| | |
| --- | --- |
| Category: | Total Conversion |
| Created: | Monday October 26, 2009 - 0:51 |
| Updated: | Monday October 26, 2009 - 1:04 |
| Views: | 6750 |
| Summary: | Epic World War II mod for Yuri's Revenge |

Rating

Staff

5.0

Members

5.0

Average

5.0/5.0

5 votes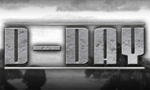 D-day the largest & longest running C&C mod ever. Covering two decades of 20th century warfare with hundreds of highly detailed & accurate units from seven different countries.
Links / Downloads
Credits
Comments
Display order: Newest first
pointy - Thursday January 6, 2011 - 11:48
Mod is still going strong as of 01/06/2011.

Please do visit the D-Day Forum!

http://forums.revora.net/index.php?showforum=264


Thank You!
2playgames (Administrator) - Sunday November 15, 2009 - 6:51
Excellent mod, but this short description doesn't really represent that ;)