The Third War
Mod for

YR
| | |
| --- | --- |
| Category: | Normal Mod |
| Created: | Wednesday July 29, 2009 - 8:11 |
| Updated: | Wednesday June 29, 2011 - 11:28 |
| Views: | 6933 |
| Summary: | An army from an alternate timeline decides to invade the Earth when it is at its weakest. But why? |

Rating

Staff

4.0

Members

5.0

Average

4.5/5.0

2 votes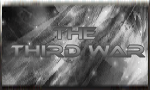 The Third War is a modification for Yuri's Revenge which attempts to continue the storyline of the game after the end of the Allied Campaign.
The mod adds several new playable countries to the original three sides, each with their own specialisations, as well as generally improving upon the core features of each side.
The mod also adds a new side to the game. Known only as the Separatists, these mysterious time travellers gather their technology from various timelines they've managed to break into, and this one is their next target.
Website:
http://thirdwar.cncguild.net
Forum:
http://forums.revora.net/forum/894-the-third-war/
Previously released versions [now only available on the forum] require differing versions of the RockPatch, obtainable from
http://dc.strategy-x.com/_rp
. Check on the mod's forum page which specific version is required - they are all mechanically different and aren't interchangeable.
Future versions of the mod will operate under the Ares DLL. See
http://ares.strategy-x.com
.
Links / Downloads
Credits
| | |
| --- | --- |
| For individual graphical contributions, see the respective entries on the website. | |
| MCV | Testing |
| Viper_of_Hades | Testing |
| Nemoricus | Testing |
| bartpp7 | Testing |