Voxel Improvements
| | |
| --- | --- |
| Category: | Graphics |
| Level: | Intermediate |
| Created: | Wednesday July 29, 2009 - 3:30 |
| Updated: | Sunday October 11, 2009 - 8:46 |
| Views: | 3088 |
| Summary: | Ways to improve your voxels' appearance ingame. |

Rating

0 votes
This tutorial will show you how to get your voxels to come through more ingame.
The example will be made out of a cube, it can be applied to any shape. Colours used will be soviet brown.
Small chart of what colour to use.
Colour index 72, top
Colour index 74 ,sides, front and back
Colour index 73, bottom (in case it is effected by Rocker=yes warhead)
This is not nearly enough to make it come through ingame. You need to paint the edges so they
appear exaggerated in the viewer/editor. You do this by painting all the edges but the bottom with the colour index 70.
Sample images below. First is top second is sides/front/back.


You can smooth it some by painting index 71 next to it, usually better for rounded objects.
Sample images below. First is top second is sides/front/back.


Attached an ingame screenshot below.
This method ensures that you can see the edges from all angles, it adds necessary depth ingame and it also removes the pure white cartoony glow (due to the dark sides/front/back).
This is equally applicable for all of the colours in the palette (allied, colour index 88 on top, 90 on the sides/front/back), remaps come through especially well since they usually feel like coloured blob.
Proper texture and normals help a great deal but that goes without saying. Good luck and if you have any questions, suggestions or other misc improvements that can be done then feel free to post those.
Edit: Voxel added.
Voxel
. And thanks to Blaat for fixing spelling errors.
Edit2: Mig Eater´s method is just as viable, it is down the modder what he/she wants. Added screenshot and voxel with darker edges. Just change Index 70 to 76 and 71 to 75.
Voxel2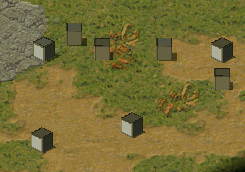 Credits